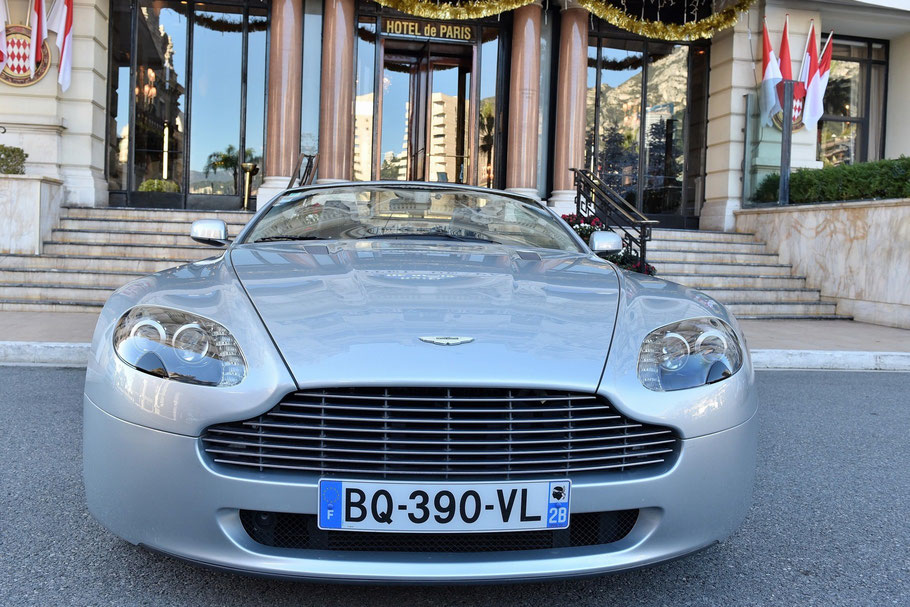 Why do I love my Aston Martin ?
Because it is an English car.
It is beautiful in front, behind, on all sides.
With the bonnet or without, it is even better.
For its seats.
For its finishing.
For the visibility.
For the sound of the engine.
For the acceleration.
For the handling and a very precise steering system.
For the gearshift paddles, not combined with the steering wheel.
For its elegance and discretion.
For its proportions.
For the very sexy curves.
For its colour and because the car is photogenic.
Why I don't like this car ?
After thinking for quiet some time, I have nothing to say.
Aston Martin is mainly the car in order to show the possibility of different drive. This is the car of Gentleman-Driver. Besides, it is equipped with indicators,which are not an option. It is a standard equipment.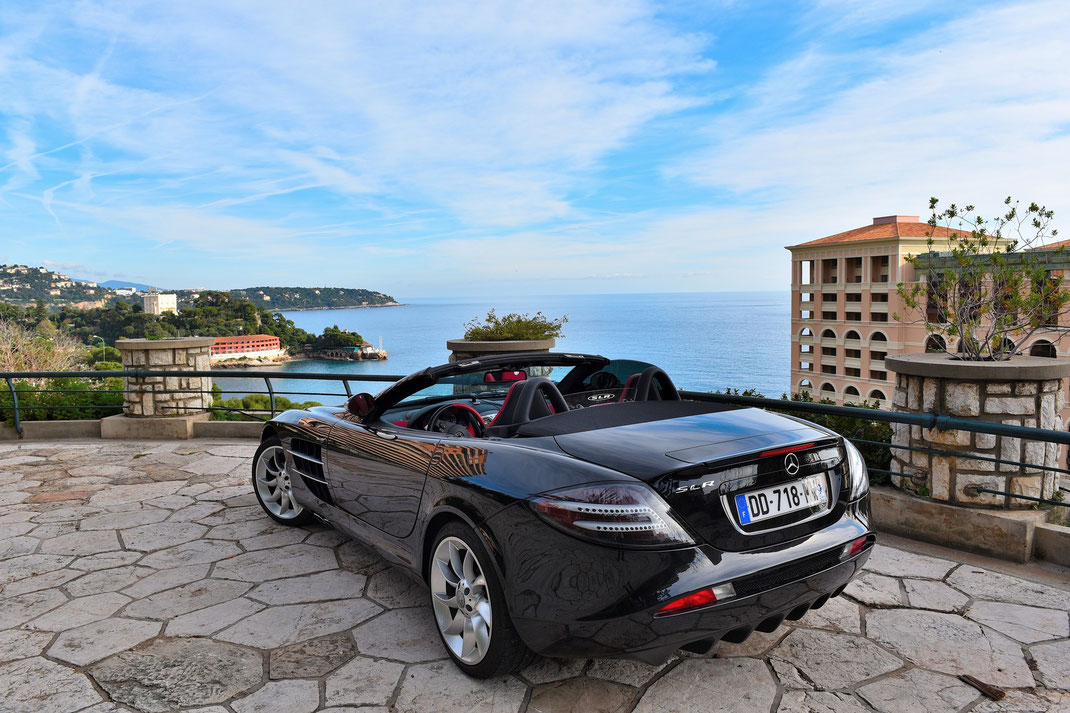 Why do I love my Mercedes ?

It is a dragster of 626 PS (460 kW; 617 hp) maximum power and 332 km / h of the top speed. Tested only once, personally. In Germany, of course.
For blistering fast acceleration.
For the dragster's exhaust pipes.
For the engine.
For the splendid red-colour seats, wrapping up your body.
For its finishing.
The car is beautiful behind, from both sides, and a little bit less in front.
For the door opening (the SLR McLaren featured doors swing forward and up in a sort of gullwing-scissor combination).
For the bonnet opening. Less complicated and more solid, than in Aston.
For the howling of the engine, when it is enraged.
MERCEDES SLR MCLAREN, it is a noise of a wild animal, of American dragster. A little bit like Corvette or Dodge Viper.
Do you prefer the dragster?
Do you hope to drive like a young hoodlum?
Not at all.
No. It is also cool and pleasant.
From time to time, I can please you, in a tunnel.
This car I appreciate less :
For its visibility, specially during small maneuvers in town.
For the gearshift paddles, united with the steering wheel.
The handling is less precise than in Aston.
This is more like a runaway car. But that is normal, it is a dragster.
For its black colour, soiled too easy and not very photogenic.
The cost of spare parts and revisions as the top speed is stratospheric.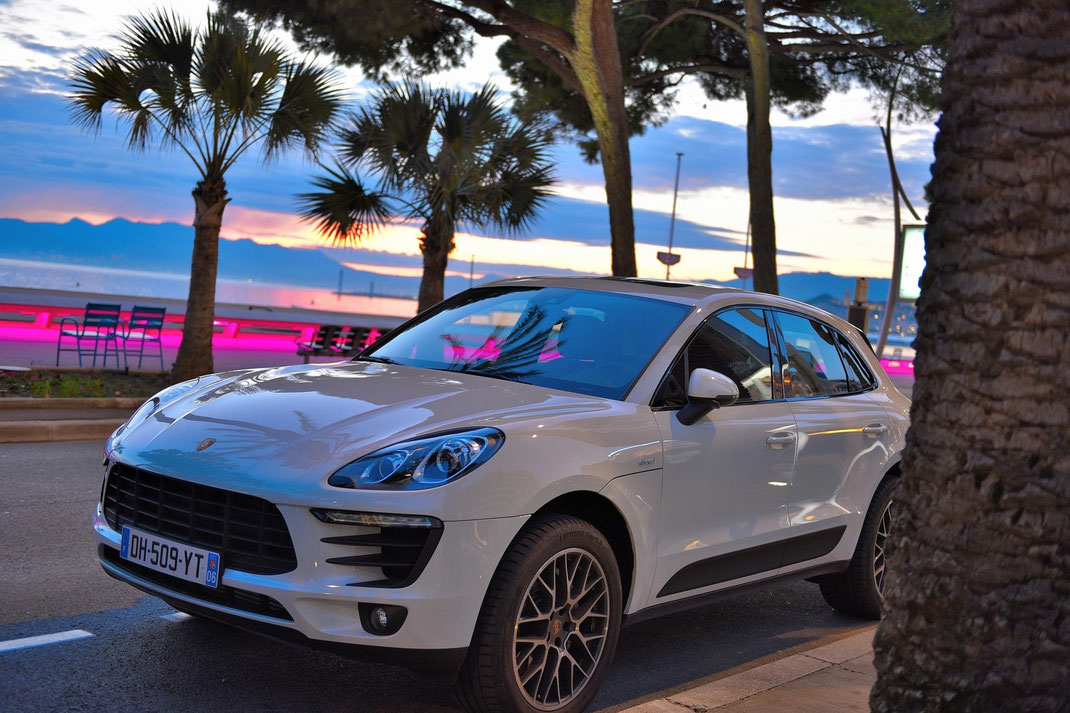 Why do I like my Porsche Macan ?

Because it is gorgeous car on each side.
For its interior and exterior colour.
For the finishing.
For the comfort of the seats.
For the panoramic roof system (which comprises two large glass panels, the front portion slides open or tilts to a raised position).
For its «nervousness».
For the handling and steering precision.
For the silence of the diesel engine. It is not the same melody, that V8 (a V-engine with eight cylinders), petrol, but it is good to be quiet.
For the visibility, allowing the foresight of danger as in each four-wheel drive 4X4.
For the smooth gear box.
For the gentle door closing.
For the fuel economy.
I do not like this car :

For the first time I have an automatic gear box without gear level indicator and without control system that avoids gear change errors. Speed indicator is only on the speedometer.

The gearshift paddles are strongly combined with the steering wheel.
Everybody knows that the options are too expensive. But that is irritating when you can't choose the red-colour seats, only if they have «comfort memory package» or «driver memory package», therefore much more expensive.
I do not need «driver memory package».
It is only me who drives my cars.
And yes, I am selfish for my cars.
The lack of «head-up display» like in Lexus.
The lack of noctovision, lucky that BMW and Mercedes are equipped with it at the same price level.
«Stop and go» function sometimes irritates because the engine stops during 1 or 2 seconds.
The start is perceptible to the contrary to Lexus.
I have doubts about reliability and amortization of clutch and battery and therefore, savings are doubtful.
A small cleanup was made in the «livestock».
To my great regret Toyota was sold, but it is in safe hands.
It gave me 130 000 km of pleasure in total security and complete confidence.
To my great regret Lexus was sold, but it is in safe hands.
It is the most successful car I have ever had. The most easy to drive even in city, although the dimensions are imposing. Look at the long list of «Why do I like my Lexus». 
Why did I sell it?
Because it is not beautiful enough. 
I know that Toyota can create really beautiful cars. 
For example Toyota MR 2, which I had or FJ Cruiser - one of the best SUV (Sport utility vehicle).
If Toyota is released as Lexus, more shapely, more curved, more sexy, I will buy it straight away. 
Talking about my ideal car, the manufacturer should add more powerful engine and noctovision.
But for the moment Toyota doesn't give a damn about my wishes. 
Look at Toyota Mirai Hydrogen. It is the revolutionary car but ugly and sad.
In the meantime I did a crazy thing. 
I hope that my daughter won't learn it because there is a risk that she will ask for a trusteeship of her father, affected by a precocious old age or a senile dementia. 
And that henceforth I will have 50 € a week as pocket money generously given by a guardian.
We should not exaggerate. 
It is a small madness. 
It weighs only 520 kg, to be more precise - 595 kg with me inside.
And on top of that it is really very cute.
Judge yourselves. 
I don't want to influence you, but in 3000 km which were done during one month, I have never seen so many smiles, so many raised thumbs, so many photos and videos. Specially during my «first flight» Luxembourg – Vence, 1100 km, 800 km of which were under a heavy rain. But not all the time. There were intervals of hail. 
The only dry part of my body was my head, covered by a motorcycle helmet.
If you think as me, as English who fabricate these toys, as Americans, Germans and Swiss who buy them, that this is a car, you are absolutely wrong. 
This is a motorcycle according to the Cultural Exception of French Administration because it has three wheels.
Therefore it is necessary to have a motorcycle licence. 
Or to make a training course in order to get «Certificate for driving Light Motorcycles and Vehicles of the Category L5».
The training course which obliged me to ride a motorbike ... two- wheeler for 3 hours. Last time I did motorcycling in Morocco. It was an eternity ago and anyway I didn't have a motorcycle licence.
Unplanned training course, the cost price of the lost airplane ticket, entire day and 280 € for the training.
Epilogue:
I have a motorcycle licence for Light Motorcycles in order to drive one or Morgan 3 Wheeler, that weighs 520 kg and has Harley Davidson engine of 115 horse powers!!!
Normally the motocycle's registration fee should be divided into 2 in comparison with the cars.
But in the Prefecture I was told: 
«Well, no. You must pay a full registration fee as for a car».
I adore France. Each day can be transformed into adventure. Big or small. In any domain. 
I love adventures very much. Therefore I am entirely satisfied and happy. 
During 30 years in France. Already?!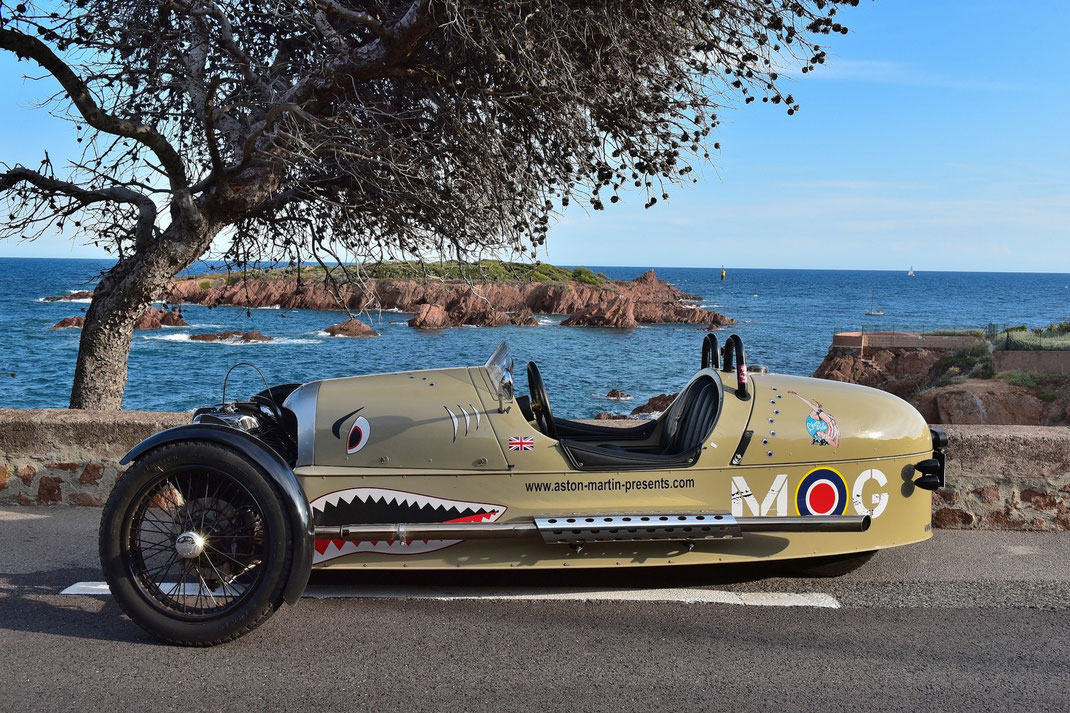 A London Bus.
I like it for the red colour.
Because it is a double-decker bus.
For its Gardner engine like in a boat, very powerful ...120 hp.
For the tortures, that it has been gone through many times in France.
But this is a long story, which I will tell very soon.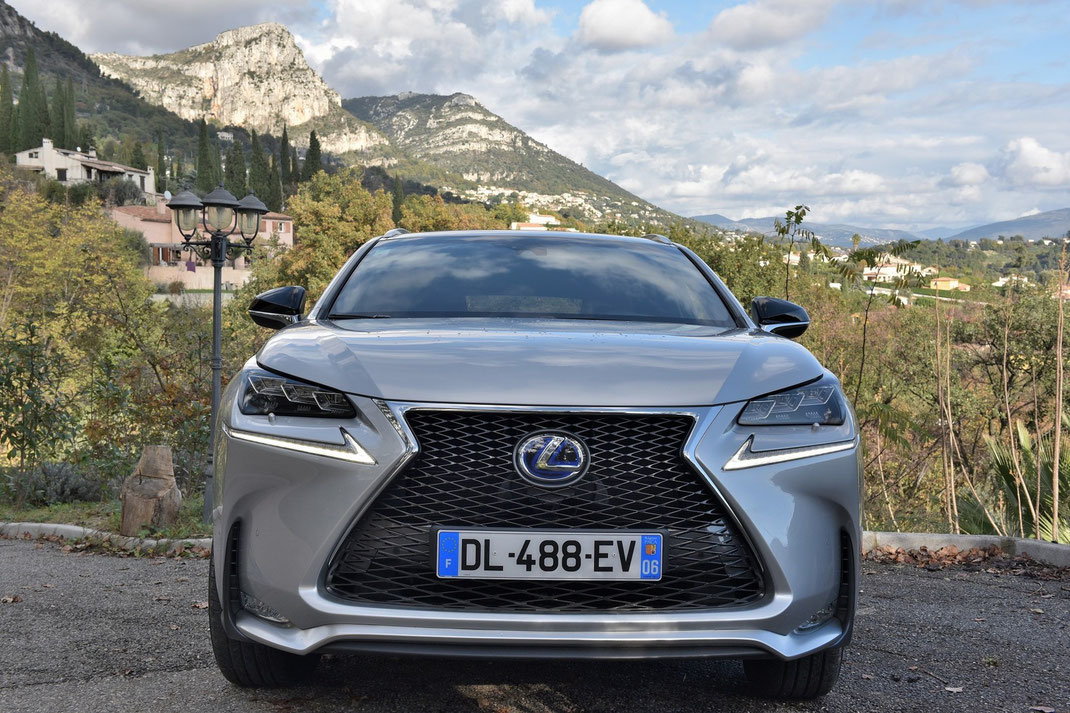 Why do I like my Lexus ?
For a very precise instruction manual, specially concerning security.
For its indicators with the warnings for the baby's seats.
It is really an example to follow.
For its ergonomics. All buttons are easily accessible.
For the high attention to the user's comfort.
For the door-handles lighting and the interior floor lighting.
For a steering wheel and a driver seat which can move in order to make easier an access. For the mirror lighting.
For a good storage solution (many small drawers).
For a hybrid concept.
It is little bit encouraging to drive four-wheel drive 4X4.
The green ecological vignette for 365 days a year. Soon, updated.
For the «head-up display», very practical because the speed is shown on the eye level, GPS indicator also.
For the energy monitor allowing to safe fuel. After a very quick training it is possible to drive controlling yourself sometimes.
For the silence in the car. Petrol and electrical engines take over «the race» almost imperceptibly.
In the city it is bluffing.
For the high quality audio system.
For the side-lighting by the fog lamps at turns.
For the fuel economy.
For the high quality finishing.
For the interior comfort.
For the confidence that I drive one of the most reliable cars.
For the blind spot warning.
For a very precise automatic headlights change.
For the external and internal colour.
This is the car to run cool, very cool.
I do not like it :

It is not beautiful enough. Approaching to my car I adore to think that «it is beautiful». Like for my others cars, same for TOYOTA FJ.
This one is «tortured» too much. Not enough sexy or elegant.
The gearshift paddles united with the steering wheel.
For the publicity of Lexus with a rapper.
A rapper for the promotion of Lexus hybrid?
What a bad taste on behalf of communications director.
As a rule I never buy the products if their promotion is made by strange person, badly adapted to the product.
A rapper is never going to drive Lexus hybrid.
May be LEXUS LF?
For what reason I must pay him 500 or 1000 € for the promotion of my car. If for such stars like Lily Allen, Katy Perry, Lana Del Rey, Katie Melua, Hollysiz this is with pleasure.
I saw this publicity too late, already after the order.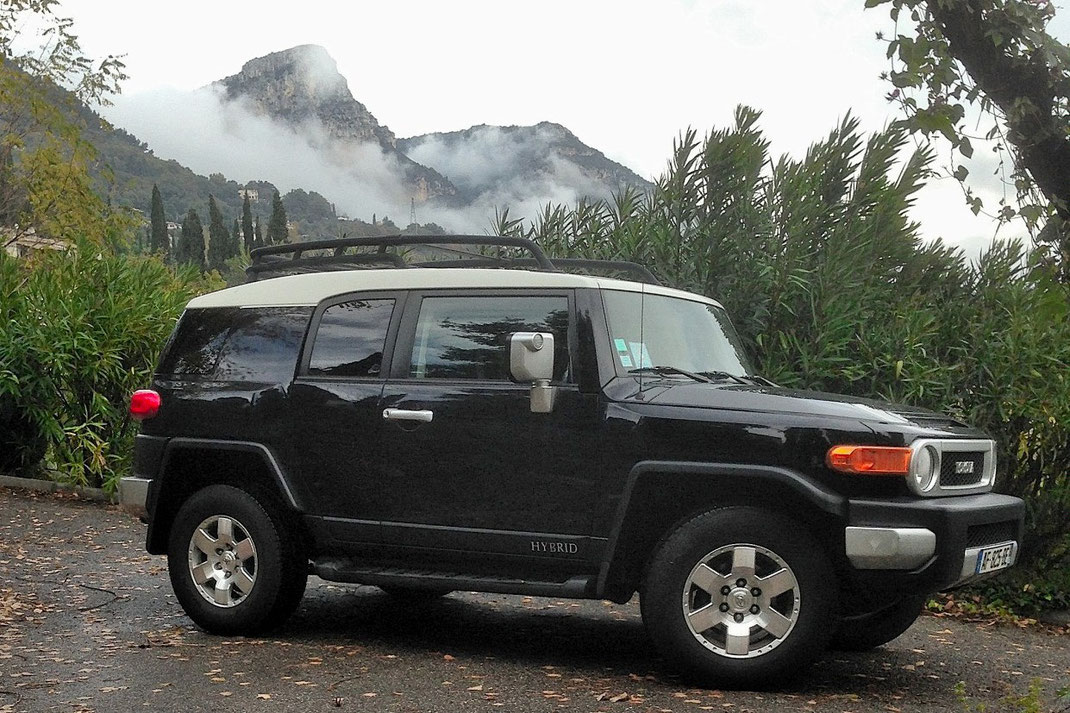 Why do I like SUV (Sport Utility Vehicle or Suburban Utility Vehicle) ?
My example is Toyota FJ Cruiser.
It is gorgeous. I didn't have many toys when I was a child.
I always was fascinated by toys but not by daft toys (if you look at the shelves in the supermarkets, you can cry). The toys which I prefer are possible to find in the model-making shops, but we don't have that many of them. When I come
back there, I am fascinated by trains, airplanes, boats, drones, steam, electrical, solar engines.
TOYOTA FJ is my toy.
Oh, yes, I am a «retarded» child or if you prefer I am a big child.
Looking at the car outside, it is beautiful on all sides: in front, from the side and behind. And going inside, there is a space. It is possible to move, to the left, to the right.
Inside you feel yourself safe.
And the trunk is huge and accessible from the driver seat. For what reason?
Once I was stopped by too zealous and moody policeman.
He didn't find anything satisfactory, except the safety vests in the trunk.
He recited me a paragraph of stipulated law, that requires that the safety vests must be accessible, without going out of the car.
I came back into the car, in 3 seconds achieved the back seats, caught 2 safety vests from my driver seat and showed them to the policeman. It only increased his Monday morning depression.
The ergonomics in FJ is significant.
All control buttons are easily accessible.
The visibility is perfect in the sitting eye height and into the distance. There are two big rear-view mirrors in order to react on time. It is possible to drive faster. Specially with automatic gear box. I have always had automatic gear boxes. One was put aside for my Dodge Viper, which (my Dodge was the first copy in France) existed only with mechanical gear box in the first version.
Driving fast I have never exceeded the consumption limit given by car manufacturer. The norms given by Americans and Japanese are real and easily to accomplish. For me the challenge is to consume less than in the instruction manual. And with the Americans, I have always been successful. With my Corvettes, Pontiac Trans Am, Viper, I lowered to 1-2 l per 100 km below the norm.
In my Toyota I use 12 l per 100 km and it is not a lot for a car of 259 hp which can transport 500 kg and has the acceleration of a sport car with a music of V6 engine.
My Toyota has never broken down. My previous Toyota Landcruiser and MR 2 either.
130 000 km and I have never needed to change a bulb or to tighten a screw or to add half a litre of oil between the revisions.
I have never changed the brake pads in the car with automatic gear box on top of that.
The tyre change in 100 000 km is robbing.
But the front tyres were too used because I drove in the mountains.
The back tyres were barely used for 50 %. They are in my garden now serving as plant tubs.
I know I should have made tyre rotations. Maybe I would have been able to change them after 150 000 km?
100 000 km by four-wheel drive. Nobody wants to believe it. Specially the owners of four-wheel drive luxury brands, whom I prefer not to mention and who change them every 20 000 km.
This is the car that is very easy to maintain inside and outside. Inside it can be washed directly with the water. The floor carpets are easy to remove. The seats are covered by a highly-resistant, easy-washable tissue. The protector in the trunk is easy to clean.
My three Toyota(s) have never broken down.
It is very important to trust your car.
Specially if to drive abroad at night in winter.
During 5 years I have been working 450 km away from my home.
I was leaving for 12 days per month.
I left at 3:30 in the morning, at 8:30 I arrived at the hospital, drank a coffee and at 9:00 I started my job.
Summer and winter.
Never any delay.
And on the 1st of January when the uphill road to the hospital was inaccessible for the ambulance because of snow and glaze ice, my Toyota passed ridiculously easy. I launched the four-wheel drive 4x4, however.
There was also a snowstorm on the motorway between Strasbourg and Mulhouse. The right line was occupied by a column of cars floundering in the snow and driving 20-30 km per hour, and my Toyota with the windscreen wiper thoroughly working, ran quiet and cool 70 km per hour.
But also twelve times back and forth Vence-Warsaw, 2000 km in 24 hours. Pause, toilet, coffee, blueberry juice, Dark Dog (Australian Red Bull) for me, LPG for Toyota including.
I forgot to say that my Toyota is equipped with LPG system. Therefore the consumption is 12 l X 0,80 € = 9,60 € in 100 km. It is the equivalent of a small car consumption.
For this reason my car registration document was free. I had famous special environmental green sticker (in order to enter the «green zone»of many cities and towns),which is going to reappear again.
Mr. Estrosi, the mayor of Nice even offered me to park my car in the public parkings, because the cars «equipped with LPG system are welcome here». It is very nice from his part, specially if to compare him with madam Hidalgo from Paris (the mayor of Paris).
I have never used his offer.
First: I do not drive in the town.
I walk on foot in my town and in others also. In Nice, which is a very nice town, that I love so much, I leave my car far from the center and walk for kilometers.
I like the Promenade des Anglais in Nice. In convertible and on foot. When I worked in Nice, I was walking 10 km on foot every day along the seaside. It is always fresh sea air there.
Second: my car is too high, 2 m 10 cm for a parking of 1 m 80 cm height.
Therefore, I had an ecological car with a special environmental green sticker on its windshield. But the laws of the lords are impenetrable and changing. One year later tax authorities started to claim the payment of 160 € every year as for a polluting car.
Why do they want to prevent four-wheel drive 4x4 in the city?
Purely for ideological reasons.
The surface taken up by my car is smaller than a limousine or a station wagon. Or even Peugeot 607 is 4 m 90 cm and my Toyota is 4 m 69 cm.
The only difference is the height of 4Runner. So the access is forbidden for me because of 30 cm more?
In the nearest future a "loaded premium" will exist for people who are more than 170 cm tall?
Will it come? Undoubtedly. When we see the flourishing inventions in the field of taxes, it is only a question of time.