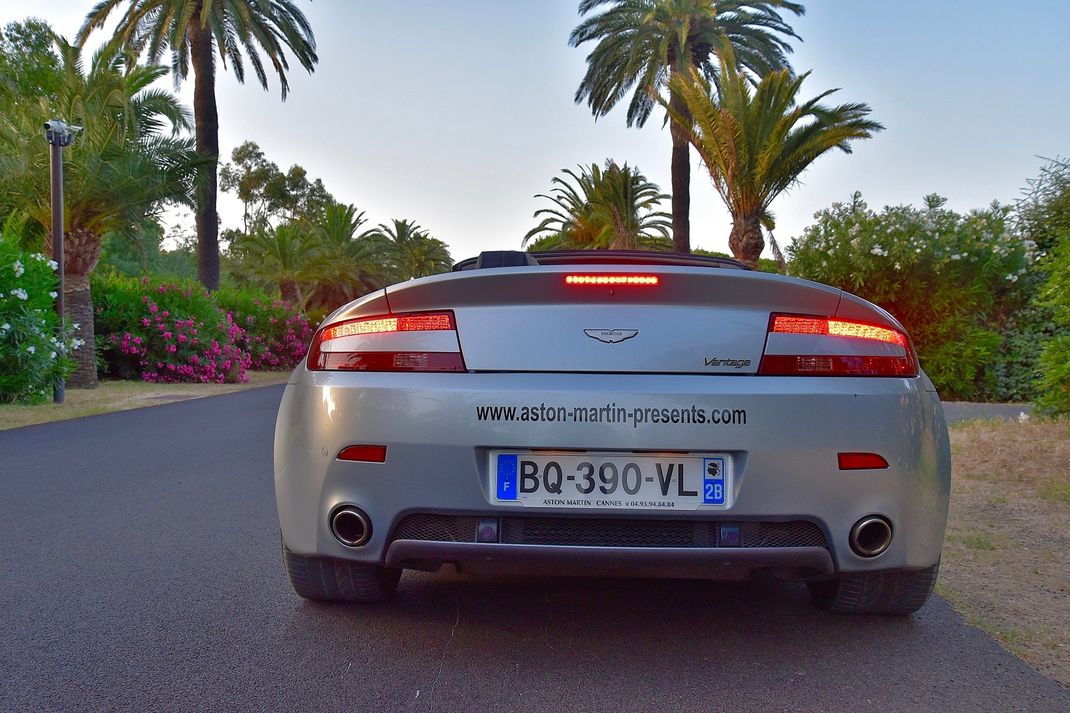 A short drive, hair flying in the wind, along the most lovely part of France, in Monaco, in Italy, in the convertible, the most elegant and beautiful in the world?
Strolling between the sea and the mountain.
In a cool and pleasant rhythm? Listening to V 8 (a V-engine with eight cylinders)?
In principle I don't listen to the radio in convertibles. I have the music of my 8 cylinders. Aston is deep, discreet, elegant. Except if it is excited. What music? Almost like Maserati, Italian diva.
But first I would like to present you my current cars.
Why do I like convertibles?
Because it is a car which allows to see everything unlimited, well exposed to the sunlight, sometimes too much in summer. It dispels «bad mood». It allows to listen without limits, gives a direct contact with environment in order to perceive the odours. Would you like to drive in the fields of lavender? In the pine forests, or where mimosa grows?
I would like to show my cars in my own way. By driving in such beautiful places.
I would like to share the beauty of landscapes, the beauty of human creations like hanging villages, churches, castles, gardens. This is the heritage of the centuries, to which the foreigners were jealous and what was neglected and ignored by (some) unaware Frenchmen.
I would like to promote a safe, ecological and not aggressive style of driving.
I would like to present another picture, than the one shown by the specialized journalists obsessed by speed, by engine's power, by skids and «rubber burning» of the clutch.
I begin in Monaco.
Why in Monaco ?
Because 3 of my 5 current cars made their first «steps» in Monaco. I love Monaco very much. Probably these are the most photogenic 2 square km in the world. This is a place full of flowers, cleanness, elegance, nice buildings and beautiful cars.
Afterwards, I will show Vence, because all 5 cars or rather 6, me inclusive, we have chosen to live there and to live very well.
In Vence on the French Riviera, the Côte d'Azur, in France. Where the sun shines 300 days a year, the spring starts in February and the mimosa is full of flowers while lemons and oranges are already ripe. But this year is strange, the flowers have been constantly blossoming since the previous spring. I love a lot this type of strangeness.
In summer, it is not bad either.
In Vence the temperature reaches 34-36 ° C maximum. The water is 30°C, it is good for a fish (I am the Fish but a tropical one).
There is a small problem:
Abundance of fruits (cherries, plums, olives, grapes, dates, figs) but we share them with birds, wasps and other friends.  
I would like to show people, demonstrations instead of protests, joy of life, etiquette, beauty, elegance, carnival, lemon festival, mimosas, cars, festivals.
The French Riviera it is not only Cannes, Nice, Menton, Saint-Rafael, Saint-Tropez. It is also Vence, Saint-Paul-de-Vence, Tourrette-sur-Loup, Grasse, Gourdon, Fayence, Saint-Jeannet, Moustiers, Cassis. The hanging villages, splendid landscapes, blue azure sky so much loved by the painters like Chagall, Matisse, Picasso.
If you do not like my cars, Aston Martin Vantage to roadster, Mercedes SRL McLaren Roadster, Morgan 3 Wheeler, Porsche Macan and the Bus of London, or if you prefer Ferrari, one Peugeot, Lamborghini, pass directly on the page " Video & photo of the events ", PLEASE
Let's go.